Recent symposia and study data add evidence of improved patient outcomes
Jul 23, 2021
Despite being held virtually, the World Microbe Forum (WMF) and 31st European Congress of Clinical Microbiology & Infectious Diseases (ECCMID) succeeded in bringing together experts across the clinical microbiology and infectious diseases specialties to share their latest findings following the unprecedented demand for their expertise to address the ongoing COVID-19 pandemic. Recent symposia and study data presented at WMF and ECCMID add further evidence of improved outcomes for patients with positive blood cultures following clinical implementation of the Accelerate Pheno® system and Accelerate PhenoTest® BC kit. A summary of the recent presentations and data are now accessible below.

Skip right to some data and highlights ›

World Microbe Forum
A collaboration between the American Society for Microbiology (ASM), the Federation of European Microbiological Societies (FEMS), and other societies, the World Microbe Forum united the renowned annual ASM Microbe and FEMS Congress. Premiering virtually in June of 2021, the scientific gathering looked closely at new infectious pathogens like SARS-CoV-2 and ongoing global challenges like antimicrobial resistance.

Industry and Science Symposia
---
Diagnostic Stewardship
Laboratory & Clinical Data-Driven Decision Making
Dr. Robin Patel (Mayo Clinic) and Dr. Richard Thomson (NorthShore) discuss strategies for evaluating the implementation of new diagnostics into the clinical microbiology laboratory.
Diagnostic Stewardship—Question and Answer Series
"How does a small hospital take your data and make that help them develop an algorithm or apply some of this testing to blood cultures?"
Hear the response to this and many more questions.
The Laboratory-Stewardship Partnership
Improving Outcomes in Gram Negative Bacteremia
Drs. Kelly Stefano, Thomas Walsh, and Margie Morgan discuss the importance of a strong partnership between the clinical laboratory and antimicrobial stewardship team.
The Laboratory-Stewardship Partnership—Question and Answer Session
"How can you explain that this is worth the cost?"
Hear the response to this and many more questions.
Posters and Data
---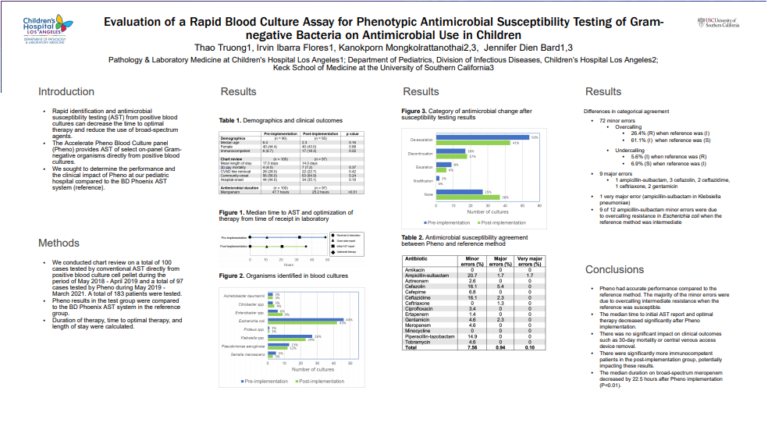 Click for larger image
Evaluation of a Rapid Blood Culture Assay for Phenotypic Antimicrobial
Susceptibility Testing of Gram-negative Bacteria on Antimicrobial Use in Children
Thao Truong, Irvin Ibarra Flores, Kanokporn Mongkolrattanothai, Jennifer Dien Bard – Children's Hospital Los Angeles
---
31st European Congress of Clinical Microbiology & Infectious Diseases
Thousands logged in online to participate in the 31st ECCMID this July to a more accessible, virtual event. As one of the largest education platforms for clinical microbiologists, infectious diseases, infection prevention, infection control, and public health specialists, this year's digital venue meant that geography was not a barrier for participation.
ECCMID Integrated Symposium
---
Bacteremia diagnostics in a brave new viral world
Clinical microbiology and patient management considerations
Introduction by Dr. David Livermore
University of East Anglia, UK
Global resistance threats and trends in Gram-negative
bloodstream infections
Presented by Dr. Laurent Poirel
University of Fribourg, Switzerland
How do you measure success? The why and how of integrating rapid diagnostics into the clinical microbiology laboratory
Presented by Dr. Romney Humphries
Vanderbilt University Medical Center, USA
Rapid phenotypic antimicrobial susceptibility testing: laboratory implementation and impact on patient management
Presented by Dra. Catarina Chaves
Coimbra Hospital and University Center, Portugal
The epidemic within the pandemic: keeping our eye on the ball
Presented by Dr. Michael Osterholm
CIDRAP and University of Minnesota Medical School, USA
Bacteremia diagnostics in a brave new viral world-Question and Answer Session
Moderated by Dr. David Livermore, University of East Anglia, UK; and
ESCMID Appointed Chair, Prof. Maria Virginia Villegas, Universidad El Bosque, Colombia
Posters and Data
---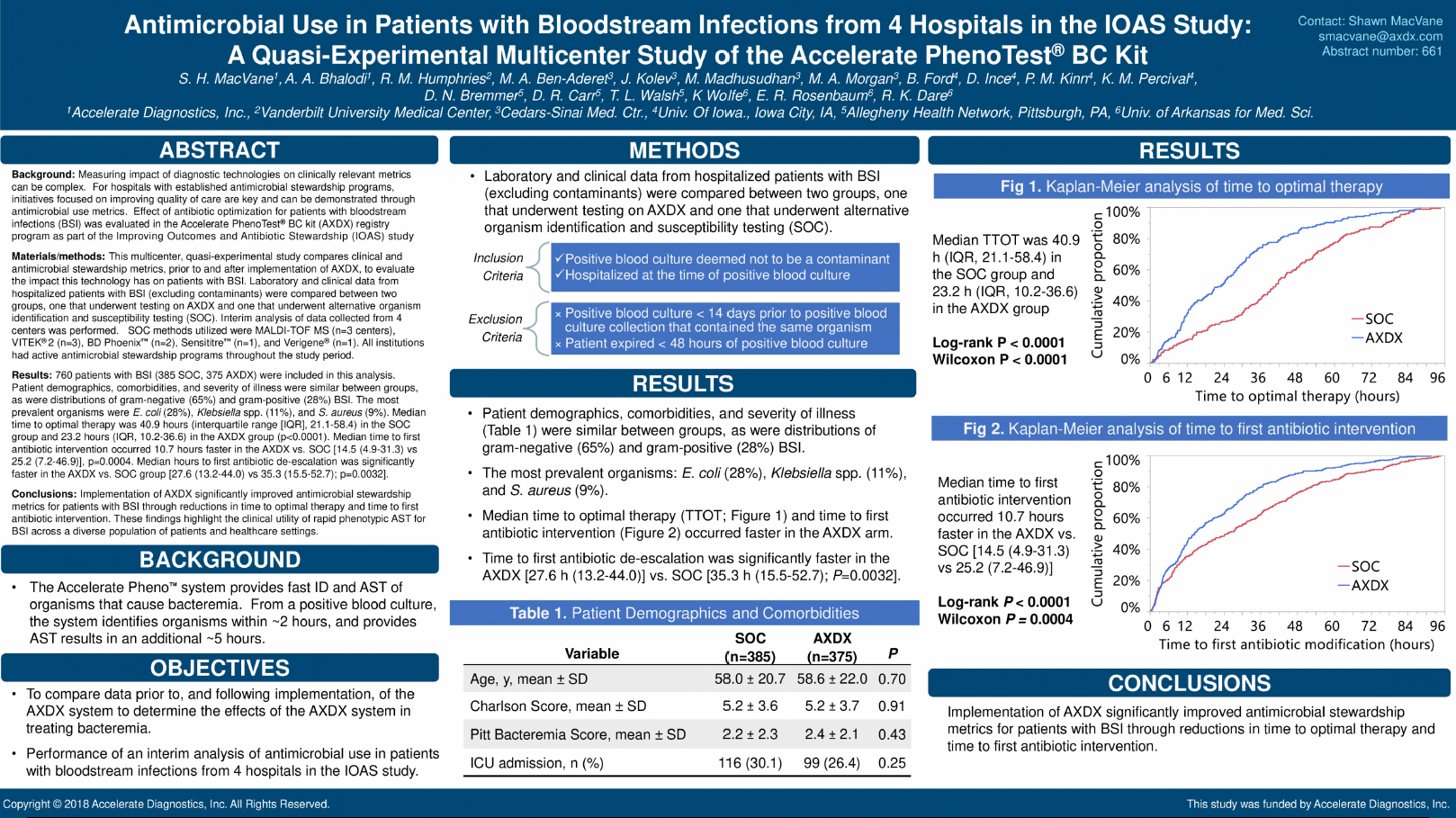 Click for larger image
Antimicrobial use in patients with bloodstream infections from 4 hospitals in the Improving Outcomes and Antibiotic Stewardship (IOAS) study: a quasi-experimental multi-centre study of the Accelerate PhenoTest® BC Kit
S. MacVane, A. Bhalodi, R. Humphries, R. Dare, et al.- Cedars-Sinai, Iowa Hospitals & Clinics, Allegheny Health, UAMS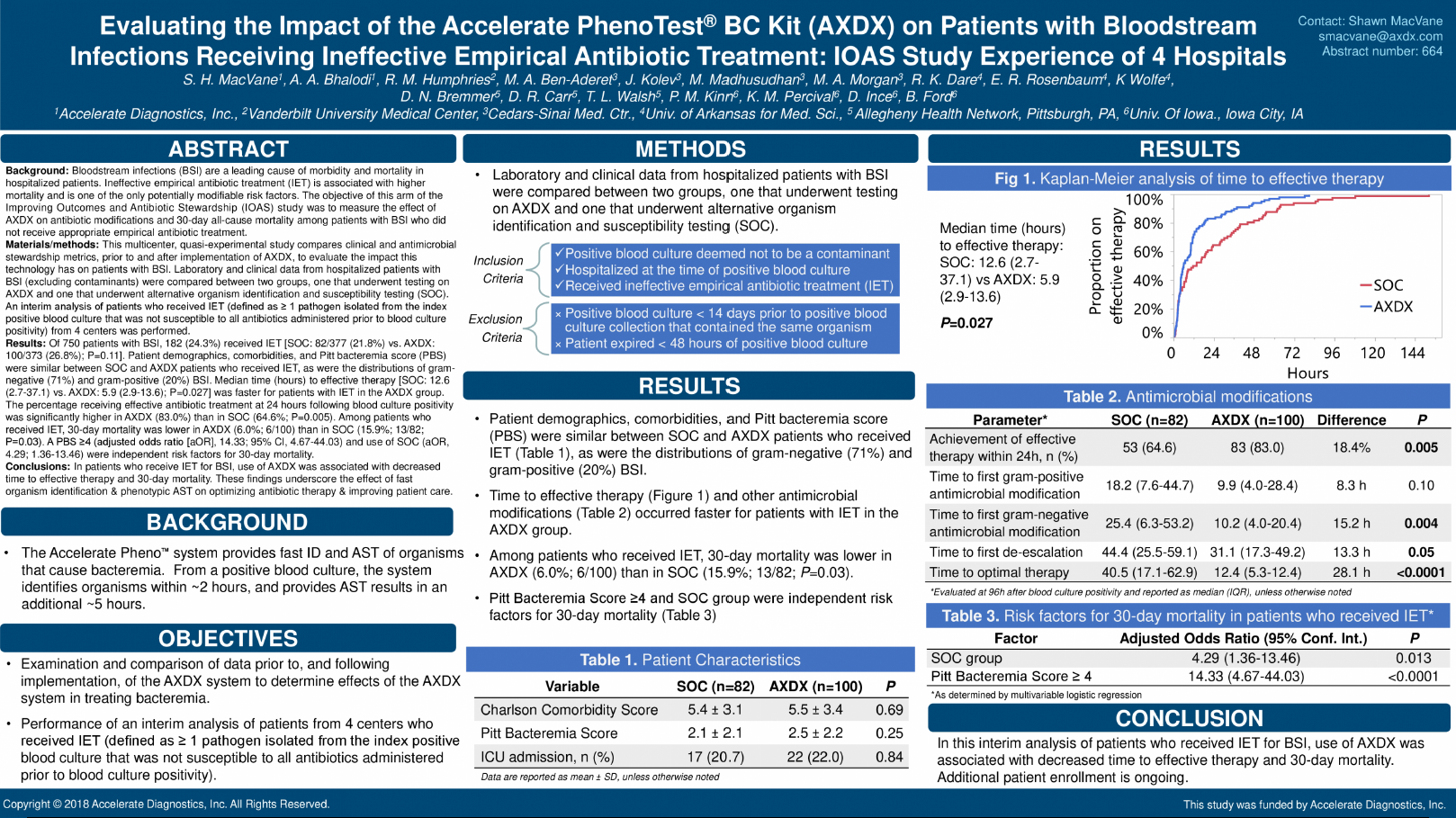 Click for larger image
Evaluating the impact of the Accelerate PhenoTest® BC Kit on patients with bloodstream infections receiving ineffective empirical antibiotic treatment: IOAS study experience of 4 hospitals
S. MacVane, A. Bhalodi, R. Humphries, B. Ford, et al.- Cedars-Sinai, UAMS, Allegheny Health, Iowa Hospitals & Clinics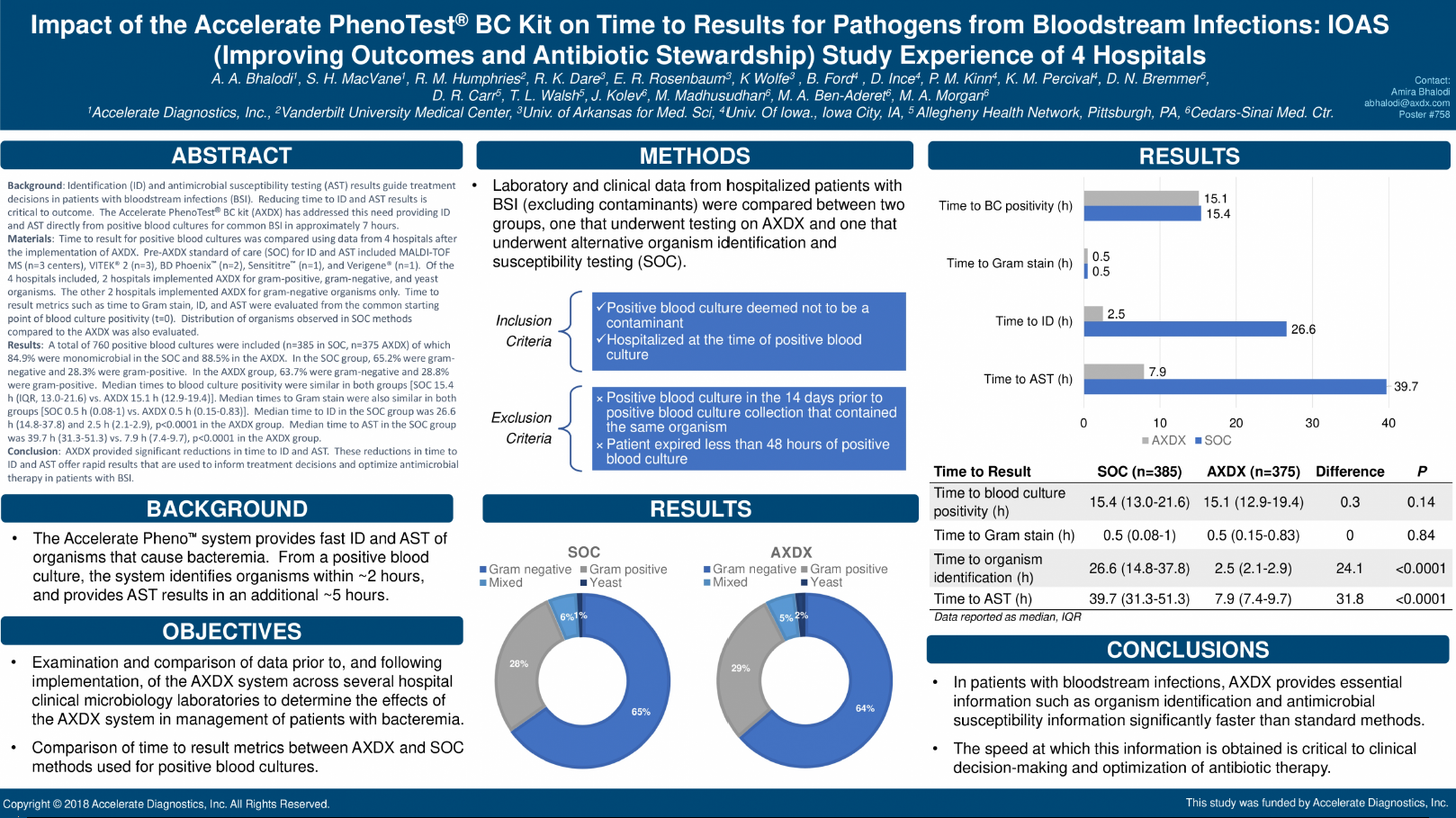 Click for larger image
Impact of the Accelerate PhenoTest® BC Kit on time to results for pathogens from bloodstream infections: IOAS (Improving Outcomes and Antibiotic Stewardship) study experience of 4 hospitals
A. Bhalodi, S. MacVane, R. Humphries, M. Morgan, et al.- UAMS, Iowa Hospitals & Clinics, Allegheny Health, Cedars-Sinai