St. Tammany Parish Hospital
How a community hospital implemented fast susceptibilities to improve patient outcomes
Beset by a surge in blood infections in southern Louisiana, St. Tammany Parish Hospital in Covington has tackled the challenge head on. Multiple teams at the hospital, which was recently designated an Antimicrobial Stewardship Center of Excellence by the Infectious Diseases Society of America (IDSA), work closely together to develop and implement improvements on an ongoing basis.
These teams are responsible for the successful implementation of fast phenotypic antibiotic susceptibilities with the Accelerate Pheno™ system. Dr. Michael Hill, VP of quality and medical director of infection prevention, said, "The most important factor in our successful implementation is knowing why we wanted it, and everything else follows from the why. It's all about patient care, patient outcomes."
Dr. Hill assembled the implementation team with members from the lab, stewardship pharmacy, nursing, infectious disease clinicians, infection prevention, and the C-suite and ensured that all stakeholders understood the clinical value the Accelerate Pheno™ system would provide for patient care. "As we worked through it, and we had a goal, and we had champions in place, the process rolled out very smoothly," said Dr. Hill.
From administration's perspective, the decision to bring the system in-house "was probably one of the more easy things to get through, because you could see exactly what it was going to do for patient care," said Chief Operating Officer Sharon Toups.
The hospital decided to acquire the Accelerate Pheno™ system earlier than planned. "We were anxious to get it up and going," said Laboratory Technical Supervisor Jade Miller. "As soon as people heard we had it in house, it was, 'When are we going live, when are we going live?'" The entire Accelerate Pheno™ system implementation process, from contract to clinical go-live, was completed in just under three months.
"It's amazing, just how quickly you can get answers," said Ashley Wilson, PharmD. "Because before you would know, 'OK, this is the bug. But are they on the right drug? Are they safe? Are they covered? What's going on? Now that 'worry window' is shortened dramatically. You know within seven hours what the bug is, what the sensitivity is, and you're able to make those [therapy] adjustments and get rid of that worry window."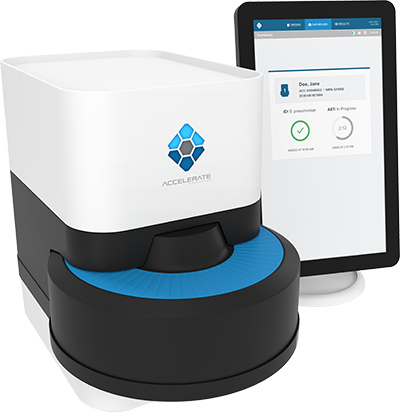 Ready for fast susceptibility testing? Request a consultation