ESBL Urosepsis Patient
56-year-old male with multiple myeloma, complicated course, recently started on lenalidomide, a chemotherapy agent that leads to immune suppression. Admitted to hospital for low back pain and urinary retention. Diagnosed with UTI; urine and blood cultures obtained.
| | |
| --- | --- |
| Empiric therapy | Levofloxacin (IV), then changed to piperacillin-tazobactam when Gram stain showed GNR |
| ID/AST method | Accelerate PhenoTest® BC kit |
| ID result | Escherichia coli |
| AST results | All cephalosporins resistant and meropenem MIC <=0.25 mcg/ml |
| Therapy change | Escalation to meropenem |
| Time to AST results | ∼7h post +BC with Accelerate PhenoTest BC kit |
Case Discussion
Microbiology CLS notified Stewardship pharmacist of AST result and the pharmacist then immediately communicated with the physician the ID and final MIC susceptibility results. MD accepted therapy escalation to meropenem. Acceptance of pharmacy interventions using the Accelerate Pheno® system MIC results has been 100%. Previously, our acceptance rate had been 82% with ID and resistance marker information.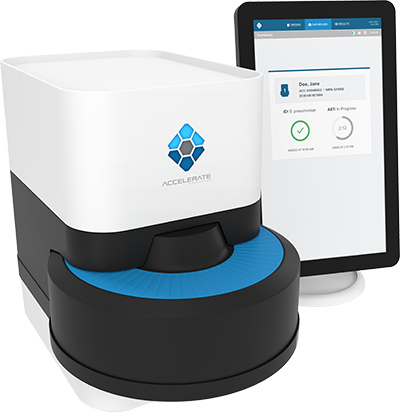 Ready for fast susceptibility testing? Request a consultation