Aorn Sant'Anna and San Sebastiano Hospital
Level II DEA Trauma Center in Caserta, Italy
MDRO Coinfection in COVID-19 Patient
A 69 year old male was admitted in the Covid-19 intensive care unit from Emergency after confirmation of SARS-CoV-2 infection.
Empiric therapy
None
ID/AST method
Accelerate PhenoTest® BC kit
ID result
K. pneumoniae
AST results
Carbapenem resistance (CRE) and multidrug resistance (MDR) profile, Ceftazidime/avibactam (S)
Therapy change
Ceftazidime/avibactam
Time to AST results
7h 2min
Patient outcome
Subsequent blood cultures clear of K. pneumoniae
Case Discussion
A 69 year old male admitted in Covid -19 Intensive Care Unit from Emergency Unit after Sars-Cov2 confirmed infection. The patient had underlying comorbidities of hypertension and diabetes and presented with symptoms of fever and dry cough.
Five days after admission laboratory results reveal 145,80 WBC and mean oxygen saturation of 85% with the necessity of mechanic ventilation. The patient's temperature was measured at 38°C and blood cultures obtained.
Rectal swab was positive for Enterobacteriaceae CRE detection and MRSA nasal swab detection was positive. Axillary swab for Gram negative MDR colonization was negative.
Blood cultures were positive 7.49 hours from VP and 7.30 hours from CVC aerobic and anaerobic bottles. Following Gram stain, the Accelerate Pheno® system was started at 10:14 AM with pathogen identification at 11:50 AM and antibiotic susceptibility results at 5:17 PM.
The Accelerate PhenoTest® BC kit revealed a multidrug-resistant K. pneumoniae with a carbapenem resistance (CRE) profile showing susceptibility to Ceftazidime/Avibactam. Antibiotic therapy was immediately started. The antimicrobial susceptibility result was confirmed by traditional AST method after 40 hours.
Subsequent blood cultures showed the presence of Candida albicans but not of the MDR K.pneumoniae. This case demonstrates the effectiveness of rapid and accurate antimicrobial therapy in a patient being treated for Covid-19 with a confirmed coinfection.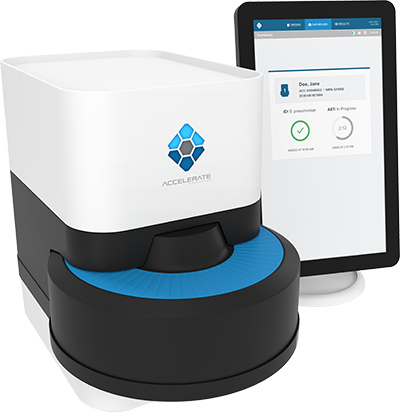 Ready for fast susceptibility testing? Request a consultation