Aorn Sant'Anna and San Sebastiano Hospital
Level II DEA Trauma Center in Caserta, Italy
Septic Shock in Covid-19 Patient
A 74 year old male admitted from Emergency Unit directly to the intensive care unit with confirmed SARS-CoV-2 infection and no comorbidities. Altered laboratory and vital parameters were detected.
Empiric therapy
Piperacillin/tazobactam
ID/AST method
Accelerate PhenoTest® BC kit
ID result
Acinetobacter baumannii
AST results
Extensive drug resistance (XDR) detected, colistin (S)
Therapy change
Colistin with ampicillin/sulbactam and fosfomycin added
Time to AST results
6h 43 minutes
Patient outcome
Escalation to effective antimicrobial therapy to treat XDRO
Case Discussion
A 74 years old male admitted from Emergency Unit directly to Intensive Care Unit with confirmed Sars-Cov2 infection. Patient did not present with any comorbidities but had altered laboratory and vital parameters: Lactic acid level: 596 UI/I, 984 WBC, procalcitonin 0,39 ng/mL, C-reactive Protein 20.96 mg/dl.
Patient received empirical therapy with Piperacillin/Tazobactam 4.5g (x4). Enterobacteriaceae CRE rectal swab and MRSA nasal swab were negative. BC was positive at 11:32 AM for VP aerobic and anaerobic bottles and 12:06 from CVC culture. After Gram stain, Accelerate Pheno® system run was started (10:17 AM). At 11:54 AM Acinetobacter baumannii was identified. After 6.43 hours (5.00 PM) the antimicrobial pattern revealed Extensively Drug Resistance bacteria (XDR) with susceptibility only to colistin.
The patient's therapy was adjusted to colistin and based on epidemiological trends, ampicillin/sulbactam and fosfomycin were added in combination. Conventional AST results arrived after 42 hours with AST microdilution methods with elevated colistin MICs, therefore, confirming the Accelerate PhenoTest® BC kit results.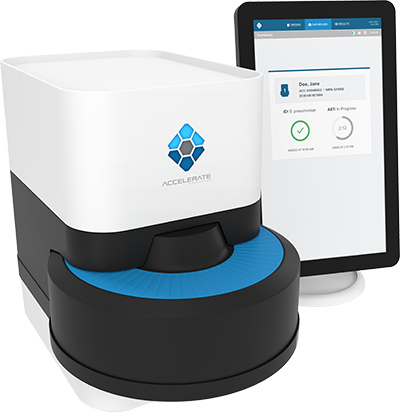 Ready for fast susceptibility testing? Request a consultation