Febrile Neutropenia Patient
74-year-old male admitted at 12:27 for chemotherapy for multiple myeloma. Hospital course included chemotherapy, prophylaxis of acyclovir/levofloxacin/fluconazole. Patient neutropenic. 10 days after admission, Tmax measured at 38.4°C @20:33, WBC 002 (ANC0), HR 100s. Blood and urine cultures obtained.
| | |
| --- | --- |
| Empiric therapy | Vancomycin and meropenem started the next morning |
| ID/AST method | Accelerate PhenoTest® BC kit |
| ID result | Pseudomonas aeruginosa |
| AST results | Amikacin (R), cefepime (R), ceftazidime (R), ciprofloxacin (R), gentamicin (I), meropenem (I), pip-tazo (R), tobramycin (S) |
| Therapy change | Meropenem escalated to ceftolozane-tazobactam |
| Time to AST results | ∼7.4h post +BC with Accelerate PhenoTest BC kit |
Case Discussion
Time from positive BC to optimal therapy was 9.7 hours. Due to the MDR report manual testing was able to be added quickly. Ceftolozane-tazobactam susceptibility confirmed 53 hours after positive BC. LOS was long (27 days) due to other conditions. Febrile neutropenic patient on appropriately escalated therapy 24 hours after fever.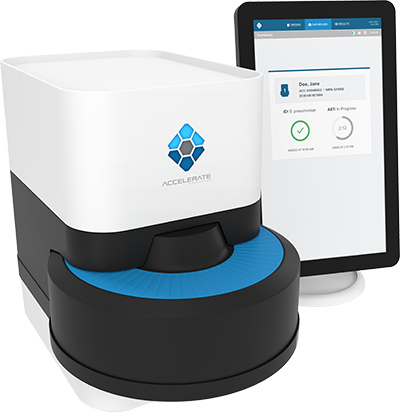 Ready for fast susceptibility testing? Request a consultation