ICU De-Escalation Patient
76-year-old female patient with pancreatic cancer with liver and lung metastases and a history of COPD presents to ED with fever and worsening abdominal pain after an IR biopsy of liver lesion. She was given pain medication but became lethargic and began to have respiratory distress. Blood cultures were drawn, and she was admitted to the ICU.
| | |
| --- | --- |
| Empiric therapy | Vancomycin and cefepime |
| ID/AST method | Accelerate PhenoTest® BC kit |
| ID result | Escherichia coli |
| AST results | Highly susceptible profile |
| Therapy change | De-escalated to ceftriaxone |
| Time to AST results | ∼7h post +BC with Accelerate PhenoTest BC kit |
Case Discussion
The patient was transferred out of the ICU 3 days after admission and was discharged home on oral ciprofloxacin the next day.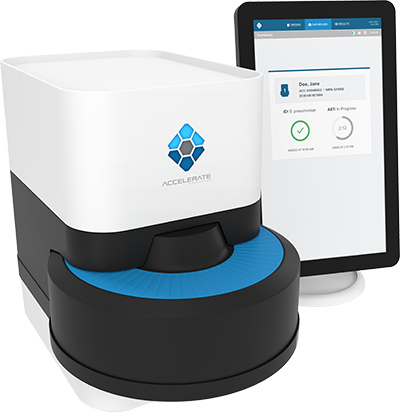 Ready for fast susceptibility testing? Request a consultation